Local Search Optimization (Local SEO)
Local search is all location, location, location. Good local SEO will boost the power of your business so it can be easily discovered on location-based services like Google Maps. While global SEO via search engines like Google and Bing are crucial, local search takes a different approach. Take this opportunity to capture the ever-growing mobile market of potential customers in your area.
Understanding Schema Markups
A schema markup is code you website uses to help search engines deliver more useful information to the user on the other end. Think of them like an extended edition of rich snippets (the metadata which appears below your site's name on search engines).

This is an example that shows a clever way of using this type of markup – for instrument lessons.
A schema markup helps the search engine understand what the information means, not just what it says. For example, maybe you own a local deli with a menu on the front page. Schema markups can tell search engines that the "BLT" is a menu item and not just random text on the page.
How Schema Markups Affect Local Search
Schema markups help translate information that ranks well in local search. Menus, reviews, and events are all examples of local information a schema markup helps identify. The clearer that info is to the search engine, the more likely you are to rank for it in your area.
What Else Goes Into Local Search Optimization
Not only do we focus on schema markups and rich snippets. Local search is much more than that. It's making sure the content is geo-targeted for the areas you're looking to target. It's also making sure you're listed on what matters to people – Google My Business, Yelp, etc. You can increase your reach in the local market in many ways, let us help you.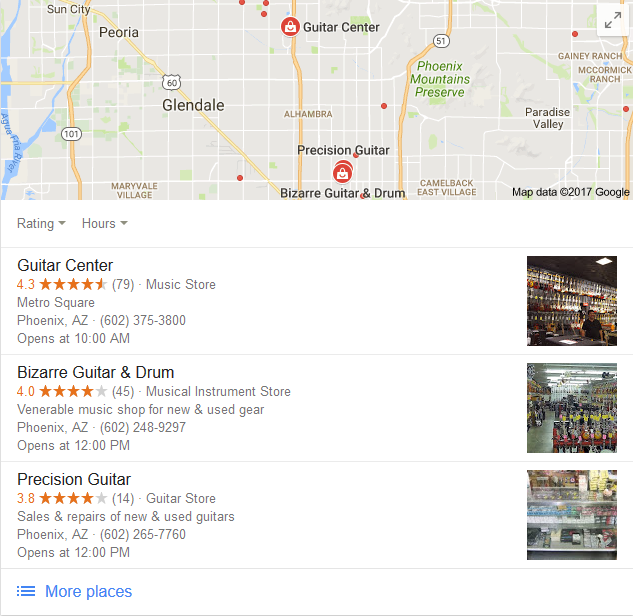 This is an example of how your business could show up if it's properly set up as a local business with Google.
How We Make It Happen
After a full website audit, we will identify opportunities to improve the rich snippets that search engines use for your site and work with schema markups to display what matters most to your business. Whether it's five-star reviews or the latest lunch menu, we'll help make it front and center.
Be a shining star in your area. Contact us today for a free consultation and let us help your site soar.